With the news that yet another high street store is in trouble, is it time to reconsider our love affair with cheap, throwaway fashion?
https://www.aol.co.uk/news/2020/12/02/bonmarche-falls-into-administration-in-third-high-street-collaps/
The list of High Street stores disappearing is growing daily:
Bon Marche
Top Shop & Top Man
Miss Selfridge
Dorothy Perkins
Burton
Evans
Wallis
Outfit
Peacock
Edinburgh Woollen Mills
And that's just so far. Even Primark, the epitome of fast, cheap fashion, are struggling.
Obviously I feel for those who will lose their jobs, and for those in poorer countries who rely on the income they receive for making the cheap clothing we crave.
Kerry Bannigan, founder of the Conscious Fashion Campaign: "The whole fast fashion value chain from manufacturing to delivery all plays a role in the destruction of ecosystems and increased pollution. Is an unfathomable cheaply priced garment truly worth the depletion of our water, soil and air?"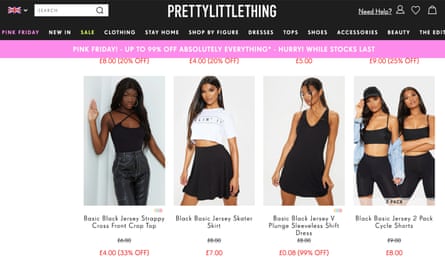 A dress for 0.08p!!! Totally ridiculous and definitely NOT sustainable. And Pretty Little Thing is owned by BooHoo, who were also offering 80% off on Black Friday. Just how many of the items bought for so little will be in landfill by Christmas?
Wouldn't it be amazing if all these stores – both High Street and online – were replaced by ethical brands who actually care about the planet, who pay their workers MORE than a pittance, who use recycled and biodegradable packaging.
Here are a few I like:
Of course, most of these only sell online at present, although I think that Bibico has a store in Bath.
I firmly believe that we need to change our attitude to clothing. One Twitter user put it rather well: "Our fascination with fast fashion and using an outfit once is gross."
"The perpetuating cycle of over production and consumption relies on the use of natural resources that contributes substantially to environmental degradation," said Kerry Bannigan, founder of the Conscious Fashion Campaign.
According to Greenpeace, enough textiles to fill a rubbish truck get sent to landfill or burned every second. And you can bet that will include 8p dresses.
Lucie Middlemiss, co-director of the Sustainability Research Institute at the University of Leeds, said there needed to be a shift towards a "slower system" which "emphasised repair and repurposing".
"Clothing has a substantial environmental impact even when it is worn until it is worn out," she said. "Selling items so cheaply adds to the idea that clothing is disposable. How much care will someone take of an 8p dress?"
So, for me, until I can afford to buy all my clothing ethically, I will continue to 'make do and mend' as I was brought up to do, and I will carry on visiting charity shops for everything else.
Lesley